Five Ideas for Keeping Your Senior's Brain Sharp
Your senior may have a lot of different goals for these years of her life and having a healthy brain is going to help her to achieve as many of them as possible.
Diet Factors In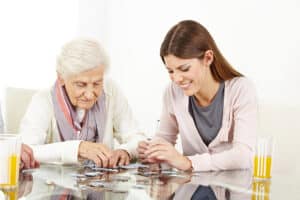 What your senior eats is already something that you know is important. But did you know her diet is crucial for overall brain health? She needs nutrients from her diet to stay healthy and to keep her body as well as her brain properly fueled. Healthy fats are particularly good for your senior's brain. Avocados, olive oil, and omega-3 fatty acids are high on that list.
Moving More Helps the Brain
If you weren't expecting diet to be a big part of brain health, you might also be surprised about exercise. Moving more helps your senior's whole body to be healthier, but it is especially helpful for getting blood flowing to your senior's brain. Exercise doesn't have to be intense to be effective. Talk to your elderly family member's doctor before starting any new movement plans with her.
Rest Is Vital
Your senior's brain needs rest, too. When her brain gets the sleep she needs, it's able to do a lot of the same things that a computer does when it defragments its hard drive. Short-term memories get transferred to long-term memory, and all the other cleanup tasks needed in the brain happen. When your elderly family member isn't getting the rest she needs, those tasks aren't happening as often as they should.
Find Ways to Play
The brain loves playing. Puzzles, word games, and anything else that makes it work are all things that your senior could find fun while she's working her brain. Even activities like reading a mystery novel can be a way to get the brain to work through play. Figure out what your senior enjoys doing that also gives her brain a workout.
Prioritize Learning New Things
There's a lot of joy in learning new things at any age, but it also does great things for your senior's brain. The very act of learning something new is stimulating for the brain and it's something that can have huge benefits for your senior now and in the future. There are a lot of ways she can go about learning new things, too, either in a more formal educational setting or through various skill and learning sites online.
Having extra help with some of the tasks that are getting difficult can also be a way to help your senior's brain health. Elderly care providers give your elderly family member a chance to focus on what she really needs and wants to be doing.
If you or an aging loved one are considering Elderly Care Services in Norwood MA, or anywhere in Eastern Massachusetts, please call the caring staff at CARE Resolutions – (508) 906-5572.
Latest posts by Erica Tomasello, CEO
(see all)