Appreciating the Benefits of Your Role on National Family Caregiver Day
Caregiver Wellesley MA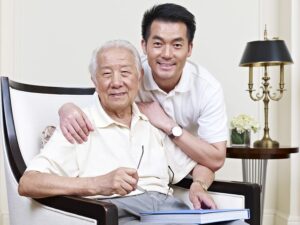 Stepping into the role of being a family caregiver is not necessarily an easy decision. No matter how much you love your senior or how strong your relationship is, you may struggle with the idea of taking on all of the responsibilities of helping your aging loved one manage all of their tasks and challenges on a regular basis. Especially if you are a family caregiver who is in the sandwich generation, you have so many other things that you are taking care of that you might not think that you are able to handle that much more.
This is a completely normal and natural way to feel and to think. Caring for a senior is not always easy and can be extremely stressful and time-consuming, simply because you struggle with the idea of dedicating so much of your time, energy, effort, and resources into caring for your parent. This does not mean that you are not dedicated to giving them the quality of life that you know they desire and deserve, or that you do not care if they are handling their challenges and limitations well. It can, however, cause you stress and anxiety that may have a negative impact on your quality of life. Taking the time to acknowledge the benefits that this role gives your life can help to refresh your motivation and revive your efforts as you continue to care for your aging loved one.
November 1 is National Family Caregiver Day. This is the ideal opportunity for you to think about your care efforts and appreciate all of the benefits that your caregiver role has brought into your life.
Some of these benefits may include:
• Extra quality time with your aging parent. You may remember a childhood filled with special time with your elderly parent making precious memories and enjoying your relationship. As you got older, however, you likely found that your life took you in a direction that did not permit you to spend as much time with them. Being a family caregiver means that you will be able to spend more time with your senior and get back to those precious times with your parent.
• Establish a stronger bond with your loved one. If you did not grow up with a strong relationship with your parent, or it has become strained in recent years, this is an opportunity for you and your elderly parent to re-establish this relationship or work on building it.
• Familial bonds. When you care for your aging parent it is not just you who has the opportunity to be closer with your elderly loved one. Your children will also have a chance to form and maintain a closer bond with your senior. This is a fantastic opportunity for them to learn more about their heritage and their culture, strengthening their sense of identity while also giving your loved one a greater sense of relevance and importance as they share these stories.
If you or an aging loved one are considering Caregiver Services in Wellesley MA, or anywhere in Eastern Massachusetts, please call the caring staff at CARE Resolutions – (508) 906-5572.
Latest posts by Erica Tomasello, CEO
(see all)