As seniors age, their immune systems weaken. Unfortunately, this makes it easier for them to get sick. It is essential for seniors to take extra steps to protect themselves, especially during the next flu season. With home care services, they can make sure they are eating well, minimizing germs, and taking care of their health in the best way.
Advice and suggestions for seniors on how to avoid getting the flu are detailed below. 
Understanding the Flu
The flu can occur at any time of year, although it is most common in the fall and winter months. The spread often starts in October and peaks between December and February. It's important for seniors to receive their flu shots by the end of October since the vaccine takes at least two weeks to start working. However, getting the flu shot may help seniors stay healthy after October. Seniors should also avoid getting their flu shots too early since they may lose the protective effects of the shot more quickly.
Seniors over the age of 65 should talk with their doctors about getting the high-dose flu vaccine. This vaccine has four times the antigen found in the standard flu injection. As a result, it may offer better protection against the flu.
Washing Hands Is a Critical Component of Staying Healthy
Simply washing one's hands with soap and water regularly can go a long way in preventing illnesses. This is particularly important before eating or touching one's face. It is also smart to use hand sanitizers when soap and water are not readily available. Seniors might suffer from dry skin, making it painful to wash their hands. Ensuring they have hand cream accessible can assist with this issue.
Strengthening the Immune System with a Healthy Diet and Home Care Assistance
A strong immune system can assist in the fight against many illnesses. Boosting seniors' immune systems can be accomplished in multiple ways, including maintaining a nutritious diet abundant in fruits and vegetables, obtaining enough sleep, and keeping physically active.
Home care can help seniors improve their diets with healthy meal suggestions or assist with grocery shopping and cooking. They can also encourage seniors to move throughout the day, increasing their physical activity to remain strong. Increased physical activity can also help keep a positive mindset, which is essential to health.
Maintaining a Clean Home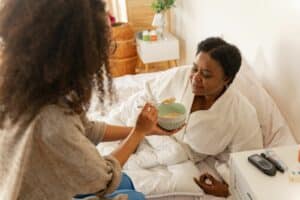 Cleaning and disinfecting frequently touched items in the home, such as doorknobs and light switches, can play an essential role in reducing the likelihood that germs will spread. Seniors with mobility issues might find cleaning difficult. If this is an issue, they can rely on home care assistance to help with light cleaning and keep the germs to a minimum.
These are just a few ways seniors can dramatically lower their chance of acquiring the flu and maintain their health throughout the flu season. Loved ones and seniors can discuss health issues, such as concerns about the flu, with their medical professionals and home care team. With the right support and care, loved ones can ensure seniors stay healthy all year round.
Source: https://www.cdc.gov/flu/pdf/freeresources/seniors/seniors-vaccination-factsheet-final.pdf
https://www.cdc.gov/flu/prevent/actions-prevent-flu.htm
If you or an aging loved one are considering Home Care Services in Weston MA please contact the caring staff at Care Resolutions, Inc today. (508) 906-5572
CARE Resolutions, Inc provides quality 24-Hour Home Care for seniors and families in Walpole, Dover, Wellesley, Framingham, Norfolk, Quincy, Weston, Medfield, Boston, Sherborn MA, and surrounding areas.
Latest posts by Erica Tomasello, CEO
(see all)