If your aging loved one has arthritis, they might struggle to do everyday activities such as getting dressed or moving around the house. If the problem is severe, they might need help in order to continue living alone, or to continue living at home with you and your family.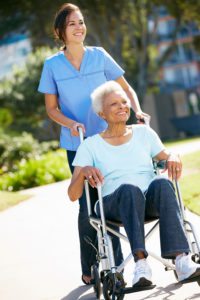 Home care aides can be a great deal of help when it comes to many medical conditions, and arthritis is no exception.
Here is a list of just five of the ways that a home care professional could assist your ailing loved one:
Getting dressed – For people suffering from arthritis, buttons and zippers might be the bane of their existence. With pain, swelling and stiffness in the joints of their hands and fingers, it is sometimes nearly impossible to do up the buttons on a shirt or to unzip the fly on a pair of pants. A home care aide can help with this by being there to help them to get dressed and undressed more quickly, so they can get back to doing the things they want to do.
Cooking meals – Home care aides can also help by cooking meals, as this is another task that is difficult when you have arthritis. Your loved one might find it hard to get a good grip on the cooking utensils, making cooking a frustrating experience. With the assistance of a home care aide, though, dinnertime doesn't have to be a struggle.
Reminders about medication – Some seniors often find themselves forgetting to take their medication on time every day, which can lead to an exacerbation of their arthritis symptoms. While a home care aide is not certified to administer medication to anyone on their own, they can remind your loved one to take their pills at the correct time and dosage each day.
Moving around – If arthritis affects the hips, legs, or knees, even just moving from one room to another can be an arduous task. A home care aide, though, can help by bringing your loved one things they might need from another room, or by supporting them as they move around the house. Like the song says, everybody needs somebody to lean on, and a home care aide can be that person for your senior.
Company – One of the worst things about a condition like arthritis that affects one's mobility is that it limits how much they can interact with other people. If your loved one lives alone, they might not get many visitors, which can lead to depression and anxiety. A home care aide, though, while still being a professional, can also be good company for your loved one, as they will be there to talk to them, as well as to help them with their problems.
If the senior in your life is struggling with arthritis, home care could be a great choice for you and your family. Having someone to assist them in their daily tasks can make an arthritis sufferer more active, and better able to do the things they love to do.
If you or an aging loved one are considering Home Care Services in Wellesley MA, or anywhere in Eastern Massachusetts, please call the caring staff at CARE Resolutions – (508) 906-5572.
Latest posts by Erica Tomasello, CEO
(see all)