One of the hardest challenges you'll face as you care for your mom involves connecting with her in the mid-stages of Alzheimer's. When she forgets who you are, it can take time to reconnect. Hobbies are a great way to form a connection and get her to engage with you. Alzheimer's care providers can be there to help and provide respite.
Bird Watching
Your mom may love going for walks in the yard or around a park with you. As you do, watch for the different birds. You can also set up a bird feeder near your mom's back deck or patio and have a bird book nearby to identify the different varieties that visit the feeder.
Games
Children's games like Memory, Chutes and Ladders, Candy Land, and Checkers are all games you can play with your mom. If she's not into board games, you could try balloon volleyball or digging games where you bury miniature candies or other appealing items in a bucket of rice.
Jigsaws
Purchase some jigsaw puzzles that have bigger pieces. Her hand-eye coordination is going to diminish, but jigsaws can help her exercise her fine motor skills.
Baking
If your mom used to bake, baking is a good hobby for keeping her engaged. Measure items for her and let her do tasks like stirring, kneading, and forming the dough into balls to make rolls. When it's baked, she's going to love eating the baked goods you've made together.
Gardening
Many people with Alzheimer's want to be outside as nature is soothing. Plant a raised bed garden for your mom to work in with you. She can plant seeds, harvest crops, and enjoy being in the sun and fresh air.
If you don't want to grow vegetables, flowers are colorful and appealing. You can cut them all summer and have fresh flowers inside for her to smell. If you're worried about her putting them in her mouth, aim for edible flowers like roses, nasturtiums, and lavender.
Painting
Get some canvas paper and water-based finger paints and have your mom paint pictures. If she hates getting her hands messy, or you don't want to clean her up after, a large paintbrush is going to be easy for her to hold.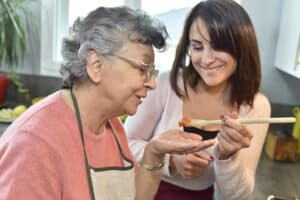 Is It Time for Alzheimer's Care?
It's at this point that your role as a family caregiver can become harder than before. This does vary from one person to the next, but many caregivers find themselves feeling sad, anxious, and even depressed. Don't try to shove aside your feelings and keep carrying on.
Use Alzheimer's care services to ensure you can take time to decompress. Attend a family caregiver support group, ask your doctor for a referral for counseling, or use the time to take a long walk. Make sure you're letting an Alzheimer's care provider take over so that you can take a break.
If you or an aging loved one are considering Alzheimer's Care Services in Dover MA please contact the caring staff at Care Resolutions, Inc today. (508) 906-5572
CARE Resolutions, Inc provides quality 24-Hour Home Care for seniors and families in Walpole, Dover, Wellesley, Framingham, Norfolk, Quincy, Weston, Medfield, Boston, Sherborn MA, and surrounding areas.
Latest posts by Erica Tomasello, CEO
(see all)