Malnutrition is something that many seniors suffer from. Family caregivers and in-home care providers often struggle to get seniors to eat enough food to sustain them. Not getting enough calories can cause significant health problems for seniors.
There are many reasons why seniors don't eat enough. Sometimes seniors suffer from conditions like depression that can take away their appetite. Medications can also cause seniors to become disinterested in eating. And the weather can play a role in whether or not seniors are getting enough to eat too. When the weather is really hot and humid seniors may not want to eat or cook. In-home care providers can help seniors by preparing meals. But seniors need to eat them.
Malnutrition can make existing health problems worse. And it can cause weight loss, bone density loss, and the loss of muscle tissue. Seniors need to be eating regularly and eating enough calories to fuel their bodies.
Seniors who find that they don't have a lot of appetite in warm weather should try these tempting healthy hot-weather meals:
Cold Soups
Cold soups are delicious in the summer heat. Most cold soups are made from vegetables, which means they are healthy. But they are served cold and creamy which makes them very refreshing. Cold tomato basil soup is a popular choice. So is cold cucumber mint soup. Gazpacho is a great summer soup. And to make sure that seniors are getting some protein try a colorful cold avocado soup. Avocados are a great source of healthy fat, protein, and vitamins that seniors need. Cold soups can be served anytime so they are good to keep on hand for whenever your senior loved one is hungry.
Salads
Salads are a summer staple because they are cold, easy, and delicious. But if your senior parent is sick of a traditional green cold salad try changing up the ingredients. All you really need is some salad greens, a good dressing, and then any ingredients that are already in the fridge. Add charred seasoned corn to some kale for a spicy cold salad. Or put in leftover chicken or steak to add protein. Chickpeas are a fantastic addition to salads. Even strawberries or cranberries can be put into a salad.
Pasta Salad
Pasta salad is something that many people grew up eating in the summer. It may tempt your senior parent because of their nostalgia for this summer classic. Use veggie pasta made from vegetables to add more veggies to the dish and get more nutrition into it. Put in some canned chicken to add protein. And because pasta salad is usually better the next day make a big batch.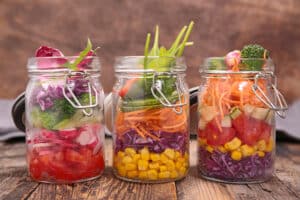 Cottage Cheese And Melon
When seniors are really not feeling well some plain cottage cheese and melon is a meal they might eat. While it might seem bland for some seniors that's exactly what they want when they aren't feeling great. Cottage cheese is low in calories but high in protein. It's a good way to get seniors to eat protein when they don't want meat or cheese. And the refreshing melon will add sweetness and keep seniors hydrated.
Sources: https://www.webmd.com/healthy-aging/what-to-know-about-malnutrition-in-older-adults
https://www.ncoa.org/older-adults/health/diet-nutrition/malnutrition
If you or an aging loved one are considering In-Home Care Services in Framingham MA please contact the caring staff at Care Resolutions, Inc today. (508) 906-5572
CARE Resolutions, Inc provides quality 24-Hour Home Care for seniors and families in Walpole, Dover, Wellesley, Framingham, Norfolk, Quincy, Weston, Medfield, Boston, Sherborn MA, and surrounding areas.
Latest posts by Erica Tomasello, CEO
(see all)