More seniors than ever are using social media these days. There are some real benefits that seniors get from social media. Seniors can use social media to make new friends. And to stay connected to family members who live far away. Seniors who are aging in place are at risk of becoming socially isolated. Being active on social media can help seniors create connections and feel like they are a part of the world. But social media does have some risks. And seniors who may not be very tech-savvy can fall for scams or become targets of identity thieves. Their home care providers can supervise them when they are online.
Some things that seniors can do to use social media safely are:
Create Accounts With Your Own Name
Most people like to be anonymous online and that's fine. But, seniors should create accounts on popular social media sites with their own names. Even if they never use those accounts having them means that no one can take their name or pretend to be them on social media. Seniors whose spouse has passed or isn't active on social media may want to create an account in their spouse's name as well just so that no one can take their spouse's name and use it.
Home Care can Limit Who Is Added To a Friends List
Social media is all about making friends. But, seniors should be wary of who they add as friends. It's a good idea to only add people that seniors know in real life, their home care provider, or who they have known online for a long time. If seniors want to add online friends such as people they play video games with to their friends list it's smart to create another social media account for that purpose. Keeping your friends list to just people that you know or trust can help keep seniors safe from scams. Home care providers who work with seniors can help them add only the right friends to their lists.
Stop Taking Online Quizzes
Online quizzes are fun, and it's fun to share them and see other people's results. But those quizzes are mining accounts for information. Often the questions in the quiz are designed to give scammers personal information that they can later use to steal identities. The next time seniors are tempted to take an innocent-looking online quiz they should delete that post and move along. Don't give people information that could be used to compromise security.
Be Careful What Photos Are Shared Publicly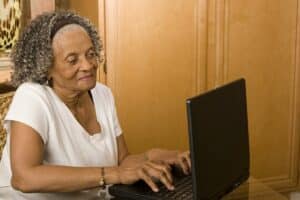 Seniors also sometimes forget that public photos can be used by anyone, for any purpose. Never post personal photos that are public. Keep the photos of the grandkids set to friends only. And keep photos of homes, streets, and other information that could identify the location on lockdown too.
It's frighteningly easy to pinpoint a senior's name and where they live just based on publicly available information that they post on social media. Whenever seniors post photos they should crop out anything that could be used to identify them or where they live. And don't post photos of other people unless they give you permission. Some people don't want their photos posted on social media.
Sources: https://www.pewresearch.org/internet/2010/08/27/older-adults-and-social-media/
https://www.aarp.org/home-family/personal-technology/info-2019/privacy-for-seniors.html
https://www.safetydetectives.com/blog/the-ultimate-internet-safety-guide-for-seniors/
If you or an aging loved one are considering Home Care Services in Norfolk MA please contact the caring staff at Care Resolutions, Inc today. (508) 906-5572
CARE Resolutions, Inc provides quality 24-Hour Home Care for seniors and families in Walpole, Dover, Wellesley, Framingham, Norfolk, Quincy, Weston, Medfield, Boston, Sherborn MA, and surrounding areas.
Latest posts by Erica Tomasello, CEO
(see all)