As your mom's needs to help increase, you're starting to realize that she's going to need someone with her every day. One visit a week isn't enough. You're considering reducing your hours at work and becoming a family caregiver. Companion care at home providers can be there when you can't be there.
What are the rewards of caring for a parent?
Build a Stronger Relationship With Her 
When you're with your mom every day, you form a stronger bond. You'll learn things about your mom that you never knew, and she can learn things about you that she may have never realized. You'll both enjoy a deeper relationship, and your mom has the peace of mind that she can depend on you.
If you have the time, journal the things that she says. Future generations will have records to look back on and learn more about their grandmother, great-grandmother, etc.
You Learn Who You Can Rely On
When your mom's health worsens over time, some friends will stick by you. Others will grow tired of your lack of availability and move on. While it hurts, you do quickly learn who your true friends are. You know who you can rely on for help when you need it.
It Brings Purpose to Your Life and You Have Peace of Mind
You have a job, but you've never felt like your life is full of purpose. You simply get your paycheck, pay the bills, and repeat the cycle. When you're caring for your mom, you have a strong sense of purpose because she's dependent on your care to get through the day. You are valued.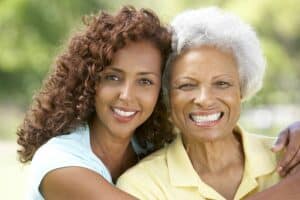 Caregiving can lead to a meaningful career in the future, too. You'll be building skills with time management, healthy meal planning and cooking, emotional support, and bill paying/household finances. All of this can help with future jobs if you end up returning to the workforce.
When you're the one helping your mom each day, you know that she isn't alone, scared, or in need of help. You ensure she takes her medications on time and correctly. You know that she's eaten a home-cooked meal and has had enough to drink.
You have a carefully planned schedule to stick to, and you make sure that everything your mom needs is covered. You're keeping her kitchen stocked with the foods and beverages she enjoys and that meet her nutritional needs. You make sure she has refills of her prescription medications in hand before she runs out and starts missing dosages.
Don't Ignore Self-Care and Supplement with Companion Care at Home Services
Make sure you don't lose track of your own care needs while helping your mom. Self-care is just as important as you can't help your mom when you're burned out. Companion care at home aides help ensure you have time to focus on the things you need as well as what your mom needs. Arrange companion care at home services by making a call and asking any questions you have.
CARE Resolutions, Inc. provides quality 24-Hour Home Care for seniors and families in Walpole, Dover, Wellesley, Framingham, Norfolk, Quincy, Weston, Medfield, Boston, Sherborn MA, and surrounding areas.
Latest posts by Erica Tomasello, CEO
(see all)