Rosacea is a long-term skin disease that mostly affects the face. It makes the skin red, blood vessels stand out, and often makes small, red, pus-filled bumps. It can happen to people of any age, including seniors, but how it looks and is treated might be different for older people than younger adults. Due to changes in their skin and health that come with aging, seniors often face problems that younger people don't. With help from in-home care providers, seniors can understand rosacea and how to care for it.
Rosacea Signs and Symptoms
Rosacea in older people can look different from how it looks in younger people. The constant redness in the middle of the face of seniors may be more noticeable because their skin is thinner, and they make less collagen as they age. Visible blood vessels, called telangiectasia, may also be more obvious in older people because of the thinning of their skin and the walls of their blood vessels weakening.
Some older people might confuse rosacea with other skin conditions or think that the redness and bumps are just signs of getting older. It's important for in-home care to know how to spot the signs of rosacea in older people to help them gain a quick diagnosis and better treatment.
What Causes Rosacea?
The exact cause of rosacea is still unknown, but it is thought that genetics, immune system responses, and triggers in the surroundings all play a role. Seniors may have been exposed to triggers like the sun, extreme weather, spicy foods, alcohol, and some skincare items for a long time. Managing rosacea means finding these causes and avoiding them as much as possible. This is especially important for older people, whose skin barrier may be more sensitive.
Treatment Methods that In-Home Care Aides can Assist with
Seniors with rosacea need to be treated in a way that considers their general health and any other medical conditions they may have. Since the skin gets more sensitive with aging, too harsh products can worsen things. Dermatologists often suggest gentle skin care practices, avoiding harsh products, and using sunscreen to protect the skin from further damage. The in-home care team can help seniors follow their doctor's recommendations with gentle reminders.
To control the redness of rosacea, seniors may be given creams to put on their skin or pills to take by mouth. They might want to try laser therapy or another light-based treatment if they have obvious blood vessels. However, these treatments should only be used if they are right for the person based on their health and any other medications they might be taking.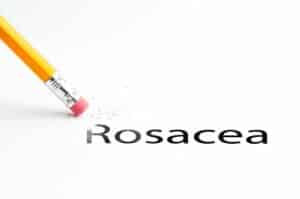 Effects of Rosacea on Well-Being
Rosacea can greatly affect how seniors feel and think about themselves because it changes how they look and see themselves. In a society that often values looking young, a person's skin problem could make them feel bad about themselves and their appearance. In-home care aides should talk to seniors about these worries and offer support to help them keep a good sense of themselves and their mental health.
By understanding how rosacea presents, what causes it, and how to treat it, seniors can take the necessary steps to improve their appearance. To help seniors deal with the problems caused by this long-term skin issue, they also need emotional support from their loved ones and the in-home care team.
Sources:https://www.rosacea.org/?gad=1&gclid=Cj0KCQjwuNemBhCBARIsADp74QQI-ZLRiq8kDitV0B8p2zGMwY3ZFfJrlWv1WCKEGNpDw_ZInmQWrlEaAjRxEALw_wcB
https://www.rosacea.org/rosacea-review/2000/fall/patients-over-50-hardest-hit-with-rosacea-symptoms#:~:text=Rosacea%20usually%20first%20strikes%20when,blood%20vessels%20may%20become%20visible.
https://www.mayoclinic.org/diseases-conditions/rosacea/symptoms-causes/syc-20353815
If you or an aging loved one are considering In-Home Care Services in Weston MA please contact the caring staff at Care Resolutions, Inc today. (508) 906-5572
CARE Resolutions, Inc. provides quality 24-Hour Home Care for seniors and families in Walpole, Dover, Wellesley, Framingham, Norfolk, Quincy, Weston, Medfield, Boston, Sherborn MA, and surrounding areas.
Latest posts by Erica Tomasello, CEO
(see all)